Magna Housing has been working with Fibo, specifying its panels in over 100 bathrooms over the past few years.
The housing association made a strategic move away from tiling in 2015 and switched to Fibo in December 2017. It's also trialling the use of Fibo wall panels in kitchen refurbishment and new build projects.
Denise Rhodes, Contract Manager for Magna Housing, comments: "We provide quality products and services, so for us the Fibo wall panels are a perfect fit as they are the high quality, robust product we were looking for."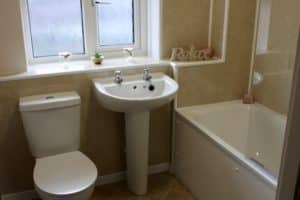 "The key objectives for the refurbishment project were efficiency and high quality," confirms Denise. "Fibo wall panels are the ideal product. They're nice looking, low maintenance and our installation team love how quick and easy they are to fit. We also use the panels for 'boxing-in', and as bath panels. The main thing that stood out for us was how strong and robust they are. They can take the weight of adaptation products, including hand rails. The thin wall panel we used previously couldn't handle them: we had to fit ply behind the panels first! Fibo wall panels are definitely better quality."
Fibo panels are made from laminated poplar: the surface is bonded to a specially developed high quality 9mm multi-layer plywood core. They are manufactured to ISO 9001 quality standard and are available in a variety of designs and finishes.
Denise says: "Panels from Fibo's Traditional range in Frost Blue and Toscana have always gone down well, we've also recently started using Sugar Sparkle from the Traditional Plus range, which is proving popular. The residents get a choice out of all three colours, and their feedback on the panels has been excellent."
"The service matches the quality of the panels," adds Denise. "We found the sales team flexible and easy to deal with throughout the whole process and we wouldn't hesitate in recommending Fibo."
To find out how your housing projects can benefit from Fibo's innovative wall panels call 01494 771242 or email sales@fibo.co.uk.