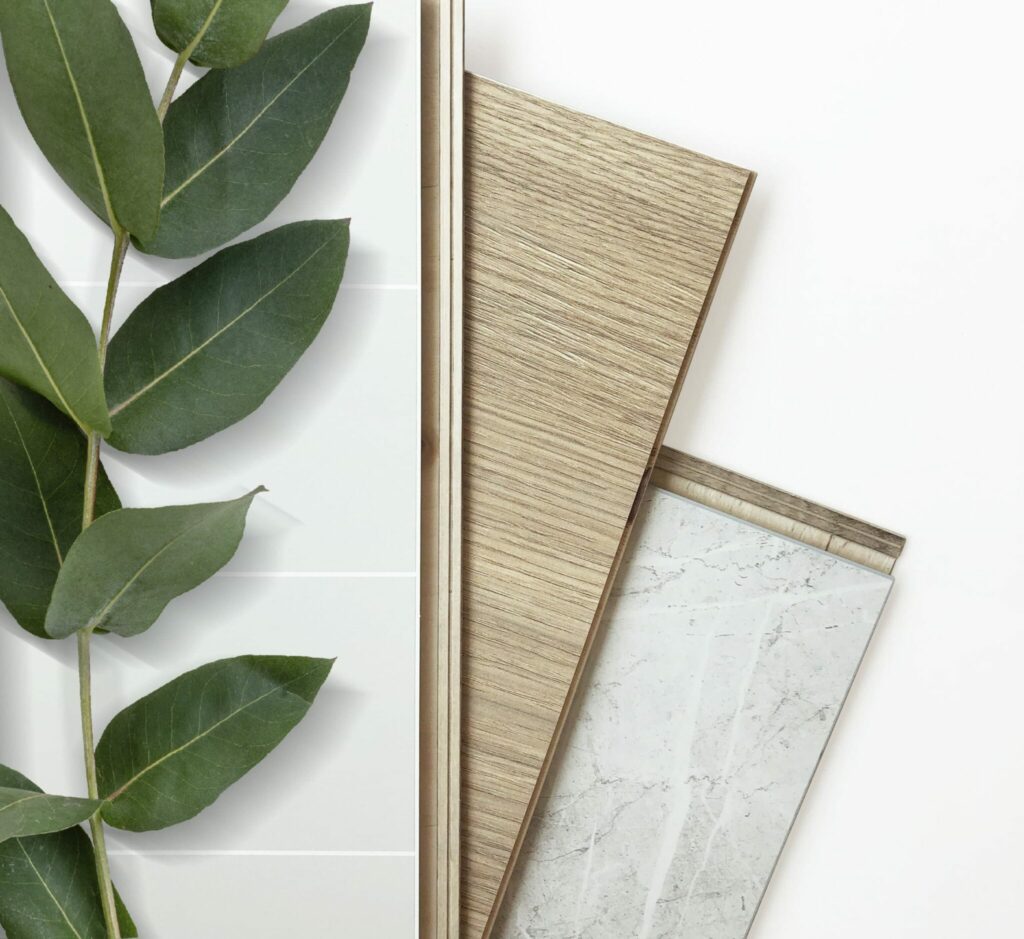 A new independent study has revealed that Fibo's leading waterproof wall system has a total lifetime carbon footprint that is 37% lower compared to tiles.
---
As well as being beautiful, efficient to install, long-lasting and easy to maintain, Fibo's waterproof wall panels can also be the greener choice for bathroom installations – this is key as sustainability becomes an equally important factor for consideration. To prove it, Fibo recently conducted an independent study, led by Norwegian consultants Asplan Viak.
The research involved a climate impact screening analysis of bathroom walls covered with Fibo's waterproof wall panels, versus a bathroom that was waterproofed and covered with ceramic tiles. Based on a lifecycle inventory analysis and available environmental product declarations, the study shows the climate impact throughout the value chain for both options and considers the material usage, transportation of materials and the treatment of materials at the end of the bathroom's life.
For the purposes of the report, Asplan Viak took a typical UK bathroom and assumed a wall area of 11.5m
The first thing that Asplan Viak looked at was material usage. When using waterproof wall panels, the total weight of materials needed was far less – 79% less to be precise. This is largely due to Fibo's innovative Aqualock feature, whereby the wall panels are instantly sealed with a waterproof join once correctly mounted. In comparison, tiles will first require an underlying layer of membrane covered plasterboard (or other waterproofing solutions), increasing the overall material usage and weight.
Next up was an analysis of the climate impact from a cradle-to-grave perspective – a full product lifecycle analysis that includes the end-of-life emissions. Here again Fibo wall panels have the potential for a landslide victory, with 95% less kg/CO2e produced per wall system installation compared to tiles, if they are re-used of recycled. This can likely be attributed to the fact that both fewer materials were required for the bathroom and the materials that were required (i.e. the panels) were mainly wood-based. Manufactured from seven layers of high-quality plywood, Fibo only uses wood that has been harvested from renewable forests (FSC or PEFC certified), with the carbon captured and contained in the material throughout the bathroom's life cycle. Therefore, assuming that no part of a Fibo wall system was recycled or reused, the carbon that was initially captured would be released when the wood is degraded.
Despite this, when looking at the overall picture and the carbon lifecycle from cradle to grave, the report clearly concludes that a Fibo wall system has a carbon footprint that is 37% lower than the tiled equivalent – based off a bathroom installation in Bradford.
So, what does this mean for you? Whether you're a housebuilder, social housing provider, bathroom installer or consumer, it's good news all round! When you choose Fibo wall panels, whether it's a new development or a bathroom refurbishment project, you can be confident that you're choosing the greener option, reducing your carbon impact and being kinder to the environment.
To find out more and to read the full report, visit our Technical Data page.